My Education:
Current second year Computer Science major at the University of Central Missouri.
Occasional economic classes with the Ludwig von Mises Institute of Austrian Economics.
My Work:
Spent one year working amateur motocross tracks.
Served four years in the U.S. Army as a Signal Systems Support Specialist.
Worked with the UCM bookstore in a summer job as a Shipping/Receiving Clerk.
The Long Version:
Education–Work
I have always had a major interest in computers and using them to make my life and the lives of others better. I aspire to be and work to be what is called a "T-Shaped Man". As the Art of Manliness puts it,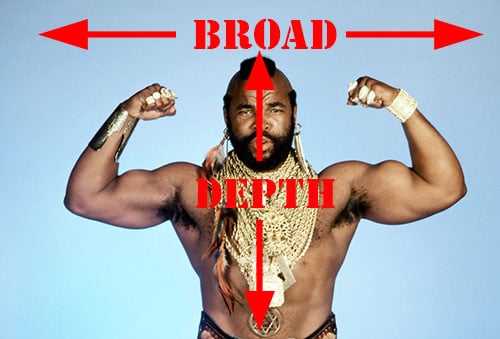 "A T-shaped man has depth of knowledge in one specific area (represented by the vertical stroke of the T), and a broad knowledge across multiple disciplines (represented by the horizontal stroke of the T)."
I am working to create mastery in programming, but I recognize that a broad depth of knowledge is helpful in not only achieving that but seeing other perspectives. Programming is a broad field that can help any person and any profession. Being able to see the needs of others and see things from their point of view, and being able to create understanding conversation is, I think, a necessary component in being a successful programmer. I want to be able to look at problems from various perspectives and be able to learn and adapt as the future evolves and changes. The way we handle problems and see the world around us will inevitably change with time, and I hope to stay on top of things through the years.
As my goals and aspirations change over the years, I have always kept one. To use computers and software to make the lives of others easier, more efficient, and better. I am currently most interested in object-oriented programming and using Java to solve complex issues.
My goal is to find a career that I can work in and enjoy while helping others achieve their own goals, plans or strategies. I'd like to see more uses for computers, and I believe that we have not begun to scratch the surface on what they can do for us, so I am always interested in seeing new theories and applications in programming.
As a child, my father helped me set up a website that mostly consisted of pictures of favorite animals. As I grew up, I developed an interest in seeing what computers can do and followed magazines like Popular Science. I experimented with website building while in the Army, and continue to do so today. I can't say that I have a designers eye, but instead look at things from a technical point of view. While my knowledge is currently mostly in software programming, I hope to learn more about web development in the future. Through those times, I faced a lot of challenges such as being put into a unit in the Army as the only Signal Systems person and being expected to repair and maintain the communication and targeting systems of more than 30 vehicles. I had to learn quickly and did not have time for "mastery", but I did my best and utilized the limited sources I had to keep things going as well as possible. Despite a highly stressful time, my survival of it made me stronger, and because of it I always look to be prepared for any situation that may pop up.
Education:
Back to Long Version
I went to high school in Holden, Missouri which is a small town with a limited curriculum. I still have a love for my original small town, but aim to expand and experience new things and new worlds. The college that I currently attend, the University of Central Missouri is located in Warrensburg, MO which is not too far from Holden. I have been taking classes under Dr. Curtis Cooper who is known to have worked with Stephen Boone on the GIMPS project and is credited for finding the 43rd known Mersenne prime number.
Courses of note at UCM:
Computer Programming I and II

Focuses on the basics of Java and object-oriented programming

Data Structures

Teaches Java elements such as working with files and systems along with concepts like recursion and binary trees

C & Unix Systems Programming

An introduction to the C language and Unix operations along with minimal scripting.
While I attend UCM, I take classes at the Ludwig von Mises Institute where I learn about history and economics from the "Austrian school of thought" point of view. Some of my teachers there have included Dr. David Gordon, Thomas DiLorenzo, and Robert Murphy. I try to take an active role in learning many different subjects, especially as they relate to current curiosities when it comes to program application.
Courses of note at LvM:
Basics of Economics
Hamilton, Clay & Lincoln
Austrian Economics
Work Experience:
Back to Long Version
My first job was working amateur motocross tracks in high school. It was definitely the toughest and most physically draining job I've ever held. We often had to drive long distances across the state and stay at the track all weekend when working. Our job was to water the tracks before the races to make sure that they weren't to dry so as to cause too much dust and not to wet so that they weren't to slippery for the riders. (Kind of an art really.) During the races each of us who worked at the track were assigned a hill or jump and if there was a wreck or fallen rider on one end it was our responsibility to flag the others to slow them down. This job sounds simple, and I suppose it was, but dragging fire hoses around all day in the hot sun with no shade isn't fun! Nevertheless I gained a lot from the experience, and I always think back to that job and think that if I could do that, and enjoy it no less, I can handle anything that is thrown at me. This is where I developed skills in handling the workplace and being able to handle high demands.
The Army played host to many beneficial experiences for me. While in AIT, I felt the stress of learning a lot of information in a very short amount of time, and it is during that time that I discovered Pareto's Principle, otherwise known as the 80/20 principle. I learned to take the important stuff first and foremost and 'cut the fat' where possible. When faced with strong deadlines I know that my quality should not suffer but at the same time I have learned to use by judgement in deciding what is and isn't actually necessary. It is through the 80/20 principle that I discovered the author Tim Ferriss whom I continue to look at today as a true "T-shaped man". I used his ideas and the ideas of Christopher McDougall to go from a mediocre runner to maxing out my PT scores in the Army in both running and sit-ups.
My first official station with the Army was at Bruchmühlbach-Miesau, Germany. This was my first time being abroad, and it was certainly an exciting time. A time of note was a field exercise that involved working with the British Army in a joint training exercise. It was there that I received the Army Commendation Medal for meritorious service. My job in the exercise was maintaining the computer, network, and phone systems of a mobile hospital. The exercise lasted for a full month and there was a lot of day/night shift switching for me as scheduling around surprise exercise events made it difficult to work around. Sometimes it was rough, but I see this as a beneficial experience.
Shortly after this I went to the 7th Army NCO academy to attend the Warrior Leaders course. This was my most beneficial time in the Army where I, as an introvert, was able to take an active role in leadership. I was assigned to act as a First Sargent during the three week training and played the role in making sure that each of the four platoons were keeping up with training schedules and achieving the goals laid out before us. As someone who has always been uncomfortable with crowds, the experience of being in front of and briefing 200 individuals every day was an incredible help. I experienced the stresses of management while sticking to my own training at the same time and had great success in both areas.
After my experiences in Miesau, Germany, I moved on to Fort Stewart, Georgia where I was put into a Calvary unit as the only Signal based person. My biggest experience of working 30+ vehicles has already been mentioned above. Otherwise, I played a key role in maintaining the units arms room and keeping track of all sensitive equipment such as weapons and communication hardware. We had to take inventory on a seemingly constant basis which was always tedious but necessary in being sure that everything was accounted for and in its proper place. I learned the importance of the little, and sometimes monotonous things that keep the every day business running through this process.
Moving on from there, and to my last work experience is the Shipping/Receiving clerk at the University of Central Missouri where I currently attend as a student. I consider this to be a first real job because my job with the motocross track was not an everyday and sometimes not even an every weekend thing. The Army taught me a lot, but I believe its benefits only go so far. As a Shipping/Receiving clerk, I had an everyday job that had to be done within a specific time frame. With both the military and the motocross track I had to do jobs into the night and miss out on sleep, with the UCM bookstore, this was not an option. So I learned about consistent and regular work and sticking to specific time frames. Even if that means more books are coming in, and there is more work to do, it simply meant, find a way to get it done. And I did, we worked well as a team in our small area, and I was able to learn more about cooperation and teamwork. As well as learning to find ways to help others in their tasks while seeking help for my own when necessary.
I am always looking for new experiences, knowledge and adventures, and I hope to be able to use what I've learned in the future to improve my own life and that of those around me.
If you have any questions or would like to contact me, feel free to send me an e-mail.
Thank you for visiting the site. I appreciate the time and interest. I look forward to meeting you.
Back to Top